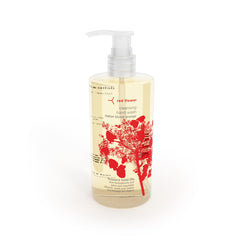 Red Flower - Italian Blood Orange Cleansing Hand Wash
$ 25.00
Brand Red Flower
Deeply cleanse, hydrate and delicately scent the skin with a blend of invigorating essences. Created from essential oils and botanicals for long-lasting softness. Sea algae and aloe vera work to naturally heal skin.
Italian blood orange

The peak of ripeness, bursting with juice, just waiting to be plucked. Like pure sunlight, the power of fresh citrus enlivens the spirit and invigorates the body. A bright blend of the citrus-sweet orange blossom, tangy juice and sharp, spicy rinds that engage the senses. The crimson shade of a Sicilian sunset. The warm harvest of grapefruit and lime groves, it stimulates and sends a tingle to the very core. Awake from the haze of life, be present, be open.

active ingredients: sea algae, aloe vera.

100% natural, biodegradable and biocompatible. made with certified organic ingredients.
free of dyes, parabens, sulfates (sls), petrochemicals and synthetic preservatives.
gluten free, vegan and cruelty free.
flowers hold life.


Packaged in p.e.t plastic for easy recycling. Made in the U.S.A.
Bottle artwork may vary.
10.2oz


ingredient list, scent notes & process:
water, cocamidopropyl betaine, lauryl glucoside, sodium cocoyl isethionate, disodium , auroamphodiacetate, glycerin, ethylhexylglycerin, coco-glucoside, phthalate-free parfum and essential oils (fragrance), benzyl alcohol, tetrasodium glutamate diacetate, citric acid, allantoin, aloe barbadensis (aloe) leaf juice.